Occupational Therapy – NDIS
Our Occupational Therapists (OTs) primarily work with NDIS participants to coordinate assistive technology (commonly referred to as equipment) assessments and requests. We also complete home modification assessments and reports to ensure the participants have safe access to their property.
Our Occupational Therapists work with adults over the ages of 18, with a special interest in supporting older adults.
Our Occupational Therapists are mobile, meaning they visit NDIS participants at their home. We visit all types of properties including:
Houses
Units
Rental properties
Townhouses
Villas
Retirement villages
Shared accomodation
Group homes
Residential aged care facilities
Our Occupational Therapists are mindful that each property type will have varying occupancy agreements (i.e. owner occupied, rented, strata) which is important to be aware of, especially when considering home modifications.
In the event the property is not owned by the participant or the participant's representative, our team will liaise with property management to discuss the approval of the modifications.
If you have an enquiry regarding assistance with home modifications, it is helpful to let us know information about the property type and who owns the property. This information will help us determine what legislation may apply to the property and respective home modifications.
Community Therapy is registered NDIS provider and accepts new referrals for NDIS participants that have an agency managed plan, self managed plan or have their plan managed.
Readers also please note our general NDIS page where you may find further information about our NDIS services.
Our Process
When you first call
The first stage of the process is understanding a NDIS participant's current situation and how our OTs can assist. Commonly we are contacted regarding equipment, in this event, it would be helpful to have the following information available:
NDIS number, budget, goals and purpose of engaging Community Therapy
Equipment and/or modifications the participant already owns or hires
Equipment and/or modifications the participant is looking to obtain
As well as the participant's general medical history:
Current medications
Current medical professional engagements
Our first meeting
During the first visit, our Occupational Therapist and the participant or their representative (or with the assistance of their representative) will review their current NDIS plan. The overall purpose of the first session is to identify goals our OT can help the participant with.
Our OTs specifically address:
Equipment requirements
Assessments, equipment trials & reports required for to complete Assistive Technology Requests
Scope of works, plans and quotes required for home modifications
Th initial assessment then allows us to formalise a service agreement which the participant and/or their representative are happy with.
What we'll do
Community Therapy's OTs primarily assist with prescribing, trialing, ordering assistive technology or equipment, as well as assessing and managing home modifications.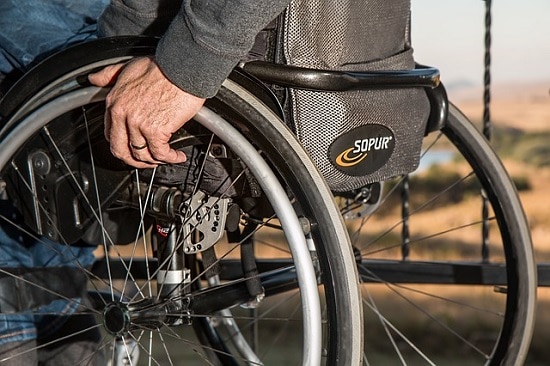 Our occupational therapists also perform ongoing therapy, which is commonly functional retraining, rehabilitation and or improvement of functional life skills. For example:
Upper limb retraining. This is to help people have better function with their upper limbs when engaging in everyday activities.
Assisting with setting and running task lists and financial budgets
Assisting with planning and accessing the community
Assisting with planning and participating in activities of daily living
Our services take a holistic, person centred approach and we aim to improve both the physical and emotional health of the participant.
Ongoing support
Our ongoing OT services will be determined by what has been originally stipulated in the service agreement.
Occasionally the service engagement may only be for the assessment and trialing of one piece of equipment only and there may be no ongoing services required from Community Therapy once the Assistive Technology Request has been completed.
More commonly however, our OTs will provide training on set up and use of any equipment prescribed and review of any modifications that have been installed.
If services are to cease with us, such as in the event the participant moves to another service provider, we provide the participant with all of the information and reports that have been completed by our OTs to date. This will help participants in applying for future funding or engage other therapists in an efficient manner.
If a participant needs to re engage with us in the future, they can simply contact us again and resume our services.
Frequently asked questions
What happens to my equipment and home access needs if I need to relocate properties?
If you are moving properties and are unsure of the home access and safety of the property, then this is a common reason to contact us.
The participant or representative will re engage our Occupational Therapists to perform a home access and safety assessment of the new property, this is best to take place prior to moving to ensure the next property is safe to access.
Our OTs can determine what types of access challenges, assistive equipment, assistive technology, or modifications may be required at the next property.
What NDIS and occupational therapy specific training or professional development does Community Therapy provide to its staff?
All of Community Therapy's Occupational Therapists are AHPRA registered and are required to complete 30 hours a year of mandatory professional development to maintain their registration.
Staff also undertake NDIS specific courses on home modifications, prescribing equipment and completing AT request forms for the NDIS.
Community Therapy also hosts in house OT training sessions that are prepared by our senior clinicians.
How many times will your OT need to visit?
The amount and frequency of visits by the Occupational Therapist can vary dramatically depending on what is required (i.e. trial period length) by the participant.
This information will be determined during the first visit and formalisation of the service agreement.
Additionally the frequency can change in the future, either at the discretion of the participant or therapist.
Any changes to a service agreement are communicated to all parties to ensure everyone is aware of why a change is required.
Do I need a referral to book your OT services under the NDIS?
You do not need a referral from a GP or a doctor or specialist. You can engage with Community Therapy directly to receive funding for our services under the NDIS.
You will need an active NDIS plan with funding allocated to Occupational Therapy under Improved Daily Living.