Training Certificate
Earn a Certificate upon completion

100% Online Course
Accessible to anyone with an internet connection
Bulk Enrolment Support
We support bulk enrolments for organisations with 100s and even 1000s of team members
Saves Your Progress
Allows you to complete in bite sized modules
Approx 2 Hours to Complete
Comprehensive training on manual handling
Qualified Instructors
Experienced Physiotherapists
About
Our online manual handling course is suitable for:
Staff working in community aged care or NDIS
Staff working within residential aged care facilities and hospitals
Carers looking to increase their skills
Sole trader health professionals working in the community
Informal carers such as family and friends
We created our online course as many community aged care and disability organisations reported to us that they have difficulty scheduling face to face manual handling training for their mobile workforce.
Our online course can be completed anywhere, on any device and saves your progress. This is particularly important for mobile workforces as it allows training to be completed in the field between clients or in the event of appointment cancellations.
We are able to coordinate bulk enrolments of an organisations workforce and have discounted rates for bulk enrolments – click here to enquire!
Course Navigation Overview on Desktop
The following video shows you what to expect when logged in and navigating the course on Desktop:
Course Navigation Overview on Mobile
The following video shows you what to expect when logged in and navigating the course on Mobile.
The ease of use on mobile is a key feature for mobile workforces.
Outcomes
Decreased your risk of sustaining manual handling injuries
Increase your confidence with providing manual handling care
Increased safety for those that you are caring for
Develop a framework for approaching manual handling tasks
Identify specific techniques for use in manual handling tasks in the aged care and disability sector
Identify the most appropriate movement patterns for bending, leaning and reaching tasks
Skills You will gain
Injury Prevention
Manual Handling Techniques
Preventing Overuse Injuries
Manual Handling Communication
Sara Stedy
Slide Sheets
Sling Lifter
Floor Transfers
Syllabus
F. Transfers from the floor
Enrolment Options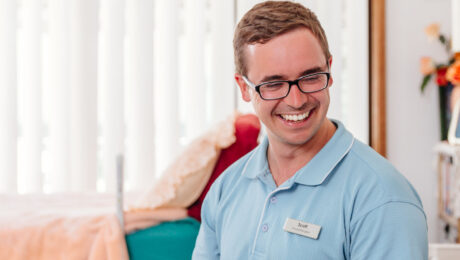 Individual License
Individual License
Our training is suitable for:
Carers
Nurses
Allied health professionals
Family caring for loved ones
If you are an individual, consider talking to your workplace to see if they will fund the course for you or reimburse for your continuining professional development.
Buy Now
Multiple Licenses
Multiple Licenses
We partner with organisations such as:
Aged Care Providers
NDIS Providers
Allied Health Providers
Hospitals
We take care of your teams enrolment and technical support.
Please contact us for bulk license pricing.
Contact Us
Instructors
The 2021 edition of this course is instructed by Emily Steel (B Physiotherapy):
Clinical Manager (Community Therapy)
Australian Physiotherapy Association (APA) Member
Emily is an experienced Physiotherapist who developed a passion for delivering manual handling training to carers supporting residents in residential aged care facilities.
Emily led the development of our manual handling training alongside a team of our experienced Physiotherapists who came together create and film the training.
Anyone that has the pleasure to work alongside Emily is truly blessed as she is always as happy and approachable as the picture that you see of her!
Outside of work, Emily spends time with her beautiful family and has a passion for leading an active lifestyle.
Video Module Example
It is always important to try before you buy so we have enabled access to one of our videos.
The following video details the safe manual handling practices around supporting someone to roll in bed.
Certification
On completion of our course, you will receive a certificate.
We are able to provide organisations that bulk enroll their team with compliance reports for their mandatory training records.
FAQs
How do I know if my employer will accept a Manual Handling certificate from Community Therapy?

Each organisation is reponsible for meeting the training needs of their organisation and any industry mandatory standards.

Online training is a mainstream method of meeting mandatory training needs now.

Our online manual handling course is suitable to support staff working across all healthcare sectors, in particular community healthcare where manual handling training is often not provided regularly due to scheduling difficulties.

How long is my certificate valid for?

Your certificate expires 365 days after completion.

Our course is updated annually with new content and in response to any quality improvement feedback received!

I'd like to sign up my organisation. How does this work?

Please contact us with your request and we will provide a bulk-license quote.

We organise bulk enrolment of your team, all we require is a spreadsheet of your staff's names and emails.

Staff are then granted access to our training.

We are able to provide compliance reports for your mandatory training reporting needs.