Physiotherapy Services
Community Therapy provides mobile Physiotherapy services to older adults, people living with disabilities and people recovering from surgery and after hospitalisation at home. We partner with home care providers and residential aged care facilities.
We are NDIS registered providers and were certified by SAI Global.
Community Therapy's Physiotherapy services are mobile and available throughout Lake Macquarie, Newcastle, Maitland/Hunter, Port Stephens & Central Coast.
Mobile throughout Newcastle, Central Coast & Hunter
What Our Physiotherapists Do
Community Therapy is registered with the APA, AHPRA and is an NDIS registered provider. Our clinicians hold their own public and professional indemnity insurance, possess current criminal record checks and working with children checks.
We primarily help people improve their strength, mobility, balance and endurance and of course we help decrease and manage pain!
The primary aim of the insurance schemes we operate under is to improve people's functional capacity. Our Physiotherapists play a critical role in helping people improve their physical capacity.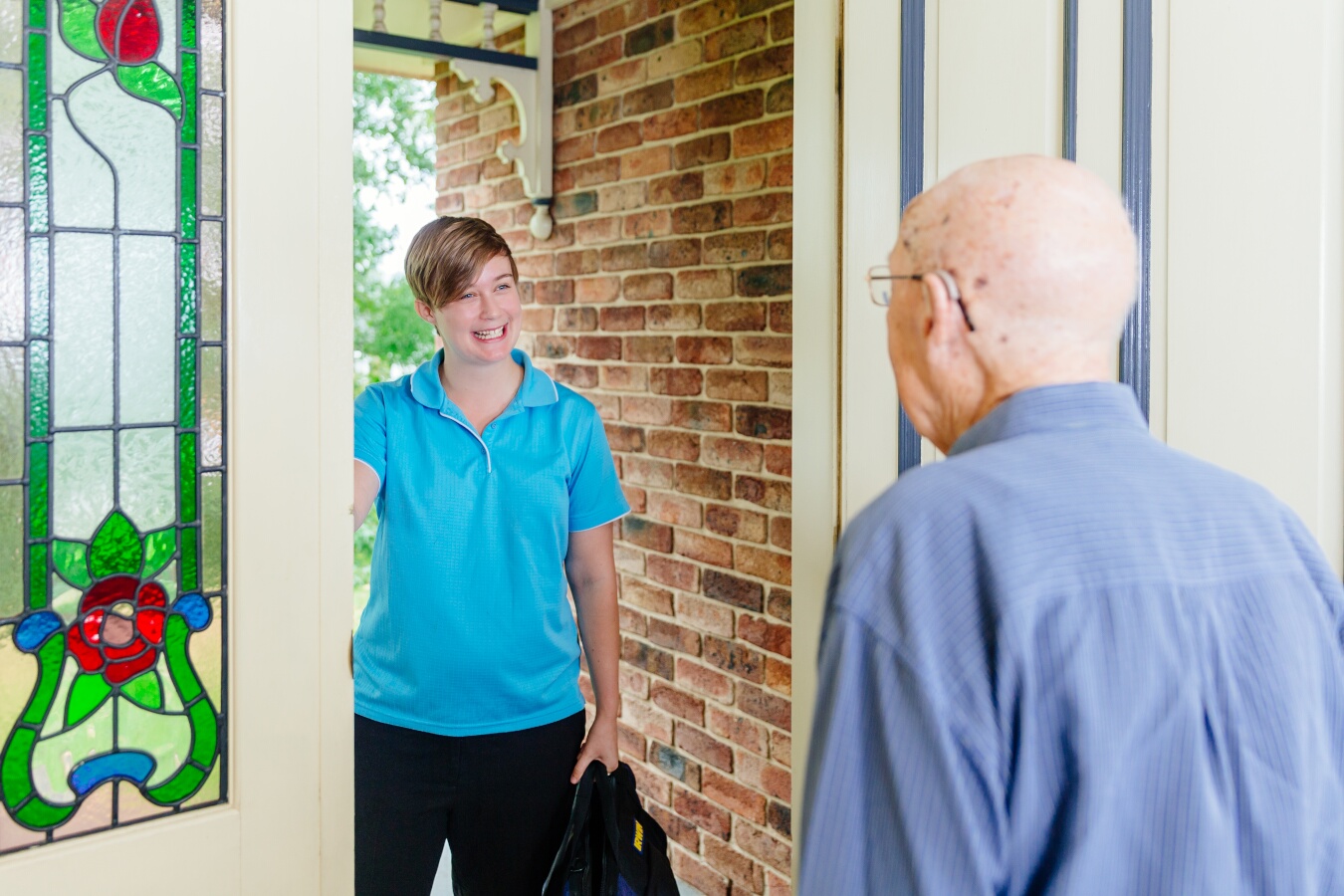 Who We Work With
We see our clients in their home or the property they're living in. We can visit people living in all types of properties and living arrangements, from private homes, units, apartments, retirement villages, disability group homes and residential aged care facilities.
Our team are experienced with supporting people living with disabilities. It is part of our recruitment process to hire clinicians with experience and passion for their role.
Our team love working with people to help them move towards the meaningful goals that they have set and would like to achieve.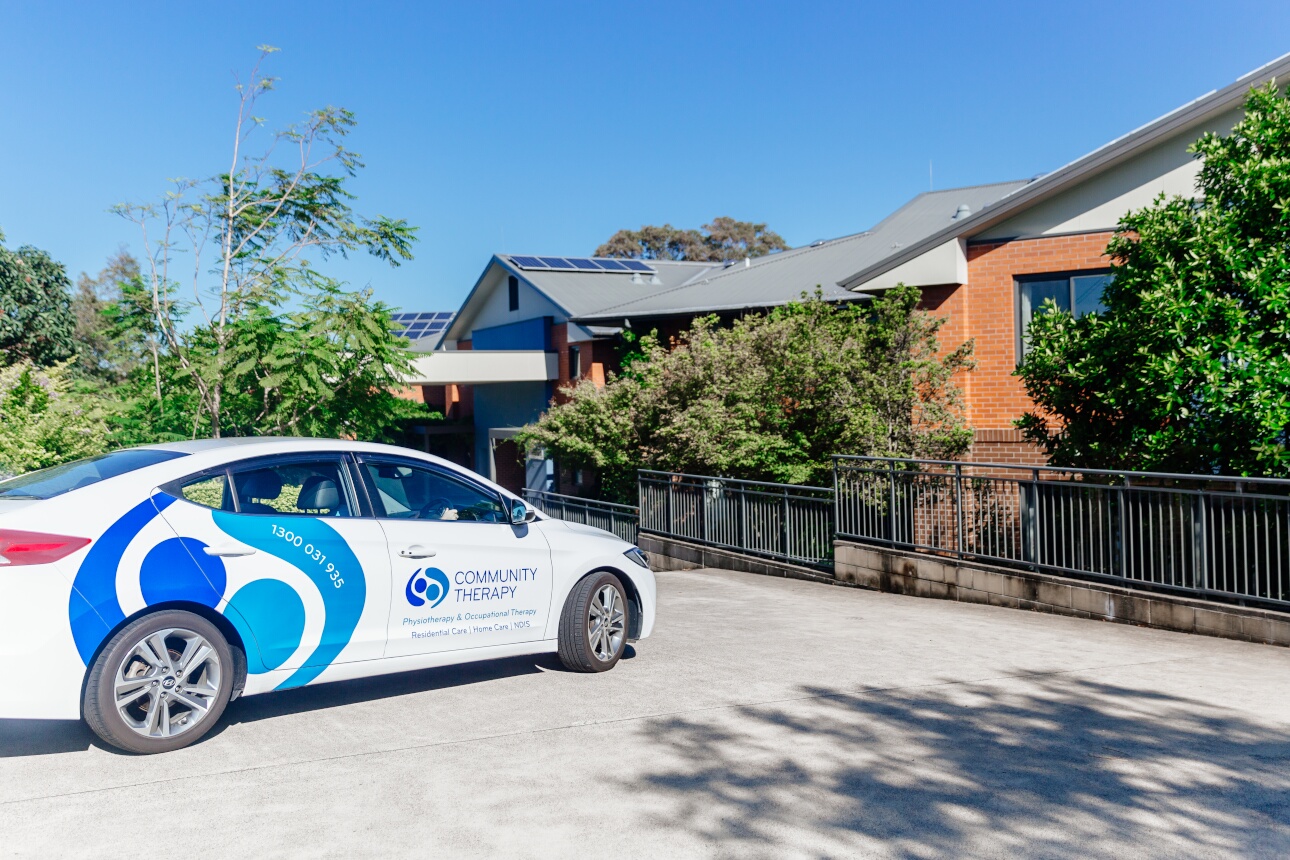 Measuring the Effectiveness of Physiotherapy
Our Physiotherapists will always utilise outcome measures to ensure that they know what someone's baseline, or starting point, is. This is critical when it comes to measuring change over time and thus demonstrating improvement.
One of the outcome measures we frequently use is the Berg Balance Scale (BBS). The BBS is a 14-item objective measure of balance in adults. It is a well-researched and quantifiable way of determining the level of someone's balance, and also of identifying where deficits in their balance exist. As such, it enables comparative scores across time, which in turn enables us to establish whether a program that someone is undertaking is demonstrably effective.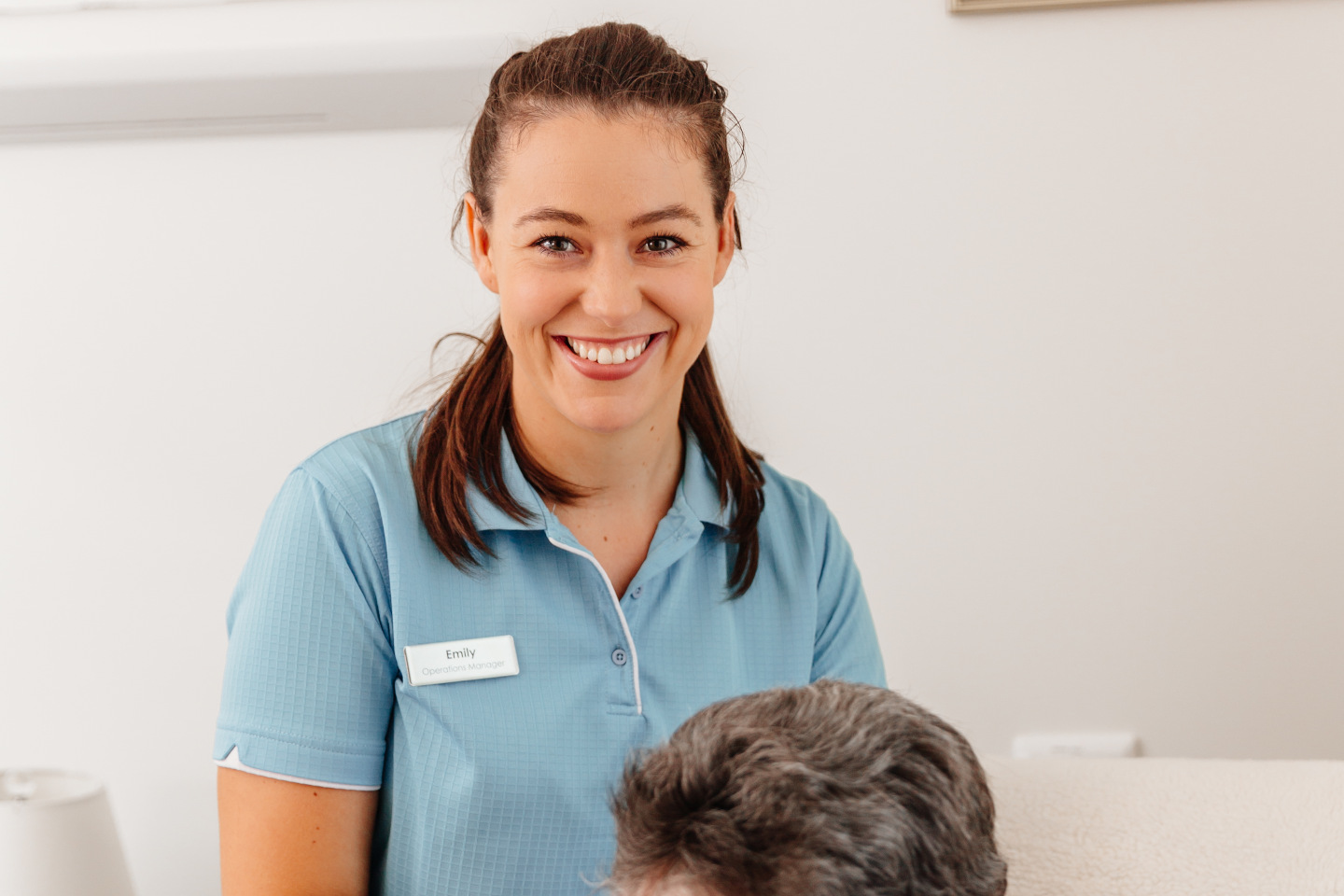 What boards are your Physiotherapists a member of?

Community Therapy Physiotherapists maintain certification with the Australian Health Practitioner Regulation Agency (AHPRA). This is a mandatory, yearly certification.

Many of our Physiotherapists are members of the Australian Physiotherapy Association, who advocates for physiotherapists and the public, as well as direct the continuing education of the profession.

Scott Lynch (B Physiotherapy), the Managing Director and founder of Community Therapy is the Chair of the APA NSW Gerontology Committee as well as Vice Chair of the APA Gerontology National Committee.

Do I see the same clinician or can it change?

Community Therapy prides itself on maintaining the stability of our care for the clients that we service.

The vast majority of the time, you will be seeing the same Physio. The exception to this would be times our clinicians are unwell or on leave.

Do we always meet at my residence or can we meet somewhere else?

Most commonly, our mobile Physiotherapy service will take place at at client's home. However, our Physiotherapists conduct therapy at other locations such as a local gym, pool or in the community.

As an example, it may be your goal to leave home, walk 800m to the bus stop, board the bus, visit the shops and return home independently. A session may actually be trialing this.

Another example may be supporting a person who wishes to access a gym, in which case, our clinicians will attend the gym with the person.

What is a functional rehabilitation program, and can you give an example?

A functional rehabilitation program simply refers to a program of exercises put together by a Physiotherapist in order to improve someone's overall physical function.

The focus here is on the functional outcome.

For example, a client may have established a goal of being able to confidently move down to the floor level and up again. This may relate to their ability to stand up if they have a fall, or to activities they want to include in their life such as gardening or cleaning.

In this case, their functional rehabilitation program would include exercises (such as lunges) to strengthen the lower limbs and increase capacity when it comes to the functional task of moving down to the floor and standing back up.

How do you allocate your Physiotherapists for each individual?

At Community Therapy, we consider it important to know and understand our client's preferences.

We understand that some clients may have preferences, for example, to see a female or a male clinician, ask us to note religious beliefs, etc.

We respect each client's individual preferences and will book or allocate clinicians depending on a person's preferences where possible. In the rare circumstance that we are unable to meet a person's preference, we will advise them in advance of their appointment in order to give them an opportunity to choose to either proceed or take an alternative path.

In what ways are the Physiotherapy sessions fun and engaging?

At Community Therapy we are always conscious of making sessions not only evidence-based for success, but also fun and engaging as well.

The people we hire play a large role in this; we typically recruit Physiotherapists who are fun and interesting people. This goes a long way to ensuring that our clients have positive and uplifting experiences with us.

In addition, we work hard to ensure that we are always involving the best equipment that our clinicians can access. For example, we have invested in the 'Blaze Pod' systems for our team, which is an innovative light sensor system designed to train people's reactions and build agility. It has been developed to not only be very effective in improving physical function, but also to be a fun activity to undertake.

Can you help with post-surgery rehabilitation?

Yes.

Helping people to recover from surgery is part of our scope of practice for both our Occupational Therapists and our Physiotherapists.

We help people to recover from a range of surgeries including knee replacement, hip replacement, abdominal surgery, shoulder replacement and rotator cuff repair.

Community Therapy engages with private health insurers and third-party referrers to support home rehabilitation programs, particularly when it comes to full hip and full knee replacements.

(Research has shown that people who are recovering from total knee or total hip replacements will typically achieve better outcomes when having their rehabilitation in the home).

Can you describe your Physiotherapy process in detail? 1 of 4

Please feel free to make your referral through our referral page or phone us on 1300 031 935.

The first stage of the process is to ensure that we're the suitable provider to consider. Please note that we work best with adults (over 18) and our service areas are the greater Hunter, Central Coast and Port Stephens regions.

We will discuss the person's medical conditions, current situation and goals they would like to achieve with Physiotherapy.

If the person wishes to engage Community Therapy, we will organise the first appointment within 10 business days of accepting the referral.

Can you describe your Physiotherapy process in detail? 2 of 4

A Physiotherapist from Community Therapy will see the person at their home to conduct an initial assessment. The assessment usually takes between 60-90 minutes to complete.

The initial assessment will involve communicating about the clinical (or NDIS) plan and any medical records relating to the person's health conditions. We will begin to understand what goals the person wants to move towards, as well as the therapy that should be utilised.

If you are an NDIS participant, we will discuss your current NDIS plan and how Physiotherapy fits into it. This will involve signing a service agreement and booking regular appointments to complete your Physiotherapy sessions.

Can you describe your Physiotherapy process in detail? 3 of 4

After the initial assessment, the following sessions involve performing Physiotherapy, exercise and/or rehabilitation programs.

The Physiotherapist will provide self-directed exercises that are safe for clients to complete, either independently or with the assistance of a family member, care staff or other.

Can you describe your Physiotherapy process in detail? 4 of 4

The Physiotherapist will visit the client at an agreed frequency.

The frequency is typically weekly or fortnightly, however, some people may be reviewed at longer intervals, depending on their condition.

For our NDIS participants and home care clients, we provide comprehensive reports to inform your NDIS plan or home care plan of what has been achieved and what we are aiming to be achieved in the future.